PLEXIGLASS, a combination of SOLIDITY AND TRANSPARENCY
Plexiglass, PMMA or Polymethylmethacrylate, is a solid, aesthetic and perfectly transparent material.
When this one is worked, cut, milled… it can be marked with scratches or become opaque.
These scratches and whitish areas are unsightly and are a real inconvenience.
HOW TO POLISH YOUR PLEXIGLASS PIECES?
The polishing of Plexiglass is a technical polishing which is simplified by the use of MERARD buffing mops and compounds.
Polishing leads to a light melting of the polymer on the surface, allowing the uniformity of the material and thus, to give back all its shine to the piece.
Depending on the origin of the scratches, your polishing must be adapted:
If the scratches are deep, start with a preparation step.
If they are finer, you can go directly to a polishing or finishing phase.
What are the steps to follow for a successful polishing?
Prepare your disc by carding it in order to remove all the compound residues from a previous polishing
Clean your workpiece thoroughly, removing any grease and dust residue
Apply the compound to the edge of the disc
Gently work with a light pressure on your piece
Adapt the pressure and the speed of your lathe by checking your result as you go along
Advance progressively
Caution: A speed or a pressure too high could lead to a too important heating of the polished zone and thus to a degradation of the latter.
luxor® – High quality polishing compounds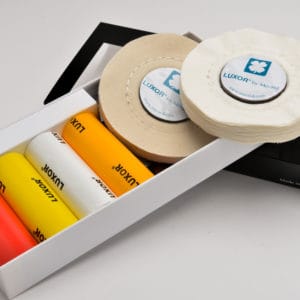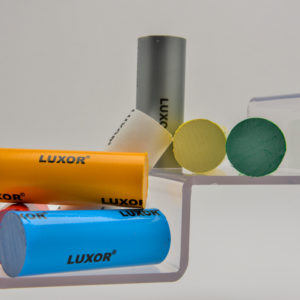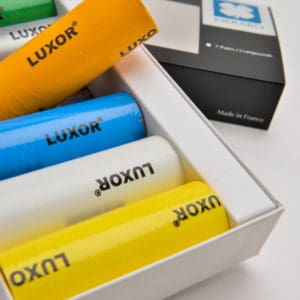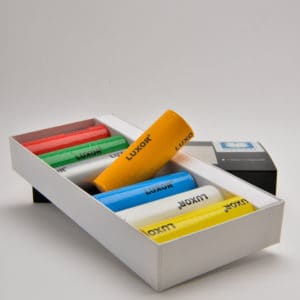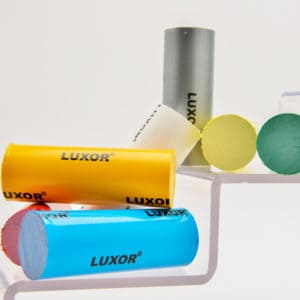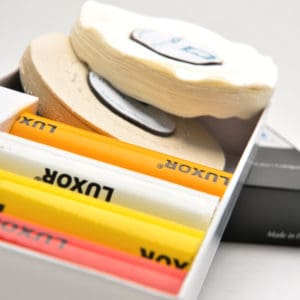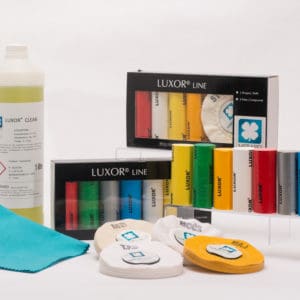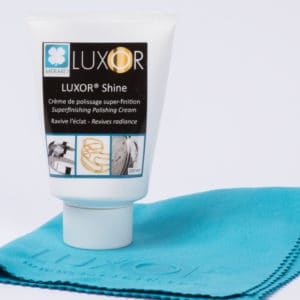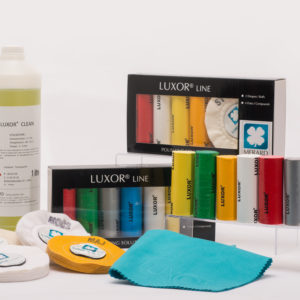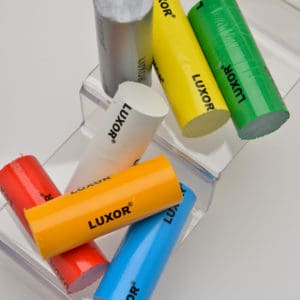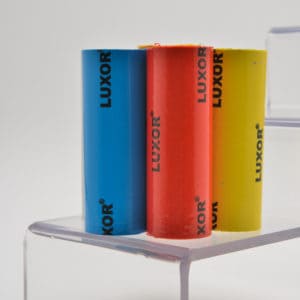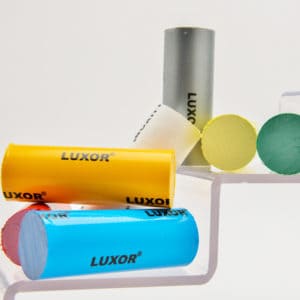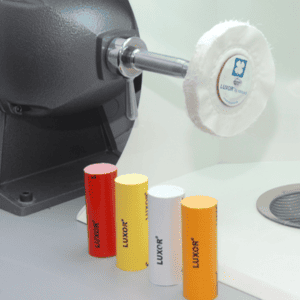 which buffing mops and compounds to choose?
Our customers all have specific processes according to their part and their requirements.
Nevertheless, a consensus is formed around the following MERARD compounds and discs:
| | | |
| --- | --- | --- |
| | Polishing compounds | Buffing mops |
| Preparation | FERINOX BLANCHE or LKBG | Medium density felt (between 500 and 700 gr/m3) |
| Polishing | PLASTEC ROSE or CHROMA LM | Ecru disc 100% cotton LA |
| Finishing | PLASTEC BEIGE | 100% cotton flannel disc MOC2 |
However, we observe that some customers use other references of our range answering more specifically their expectations.
Do not hesitate to consult us so that we can validate the process the most adapted to your need.
All our polishing compounds and polishing discs are manufactured in our workshops in France